COSI COME SEI
Película erótica con desnudo integral de una jovencísima Nastassja Kinski, que la disfrutéis
FICHA TÉCNICA
TITULO: Asi Como Eres
TÍTULO ORIGINAL: Così come sei
AÑO: 1978
DURACIÓN: 97 min.
DIRECTOR: Alberto Lattuada
GÉNERO: Drama Erótico
MUSICA: Ennio Morricone
PAÍS: Italia
REPARTO: Marcello Mastroianni, Nastassja Kinski, Francisco Rabal, Mónica Randall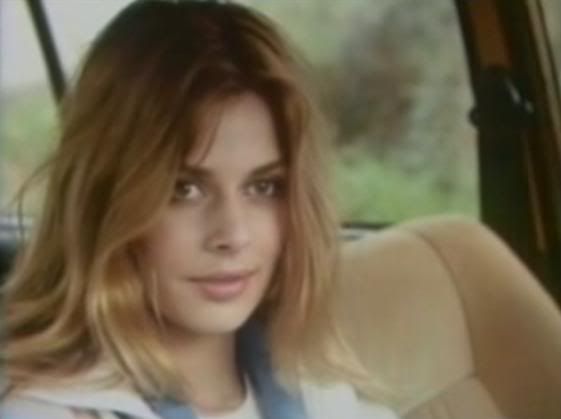 SINOPSIS:
Polémica película que narra la infidelidad de un maduro hombre casado, Giulio Marengo, un arquitecto, se siente descontento e infeliz con su matrimonio. Conocerá a Francesca, una joven y bella florentina, con la que mantendrá un romance. A lo largo de la historia surgirá la duda sobre si estas relaciones tal vez puedan ser incestuosas.
Un maturo architetto romano, di ritorno a Firenze dopo molti anni, conosce una splendida adolescente, Francesca, e ci va a letto. Ma, poco dopo, un vecchio amico gli fa nascere il sospetto che la ragazza possa essere sua figlia.(1)
COMENTARIOS:
Marcello Mastroianni en 1977 protagonizó junto a la bella y joven Nastassja Kinski, "Tentación prohibida" de Alberto Lattuada. El guión trataba sobre un hombre maduro que se enamora de una chiquilina y en donde había escenas de desnudos totales de Kinski. Marcello dijo :"Nada detesto más que hacer una escena de sexo. El sólo hecho de estar desnudo con una mujer en una cama, rodeado de focos, técnicos que te miran con placer oculto y en medio del calor, es terrible. Después vienen las indicaciones del director : 'Torcé la cara', 'Doblá los ojos'... En fin, todas posiciones tan absurdas que cuando llega el momento de decir 'te amo', uno está bizco".(2)
Película que toca el clásico tema de una jovencita que enamora y seduce a un hombre maduro y además casado y con una hija de la misma edad. Nastassja Kinski sale muy jovencita, no mas de 20 años, hay escenas donde ella se muestra desnuda y juguetona con Marcello Mastroianni. En una de estas le pide a él, poniéndosele en postura de culo insinuante, que se la coma empezando por ahí, y él va y empieza a morderle las cachas o glúteos. Una buena ocasión para ver a Nastassja tal como la madre la trajo al mundo.(3)
Giulio, arquitecto de jardines, vive en Roma con su esposa Luisa y su hija Ilaria, de dieciocho años. En un viaje a Florencia conoce fortuitamente a Francesca, una joven muy hermosa y de una edad un poco mayor que su hija, de la cual se enamora e inician un apasionado idilio. Pasado cierto tiempo, Giulio se entera por mediación de su amigo Lorenzo que Francesca pudiera ser su propia hija ya que su madre, Fosca, fue una antigua novia de él y con la que mantuvo relaciones íntimas. Ante esta noticia, Giulio se horroriza al pensar que esté cometiendo una relación incestuosa. En otra cita con Francesca, ésta le habla de su padre Bartolo, y consigue que Giulio se tranquilice con esta esperanzadora noticia, la cual queda truncada al enterarse más tarde que sólo era un padre adoptivo. ...(4)
After making two films back to back that were beneath her quality wise, 1978's COSI COME SEI (STAY AS YOU ARE) would turn out to be a refreshing change of pace for Nastassja Kinski as well as the first film she made that garnered substantial worldwide attention.
Directed with flair by veteran Italian director Alberto Lattuada, STAY AS YOU ARE tells the tale of a fifty year old man who is having an affair with a teenage girl who turns out to maybe be his daughter. The film is most notable for the pairing of legendary Marcello Mastroianni with the young Kinski. The role, for Kinski, would suddenly prove her not only as a great star but also as one of the most commanding young actresses of the seventies.
Scripted by Lattauda and Enrico Oldoini, from a story by BLACK BELLY OF THE TARANTULA director Paolo Cavara, STAY AS YOU ARE could have played as a totally smarmy and tasteless film but instead it holds up remarkably well as a poetic, if slightly twisted, look at a man having a major mid life crisis and the young woman who captures his heart.
Oldoini and Cavara had just come off the interesting Corrine Clery thriller, PLOT OF FEAR, when they came up with the idea for STAY AS YOU ARE. Lattauda was the perfect choice as director as he had just finished filming the pairing of middle aged Max Von Sydow and young Eleonora Giorgi in DOG'S HEART.
Produced by Bernardo Bertulcci's cousin, Giovanni, with Ennio Morricone providing a heartbreaking and incredible score along with the remarkable cinematography of Almodovar favorite, Jose Luis Alcaine, STAY AS YOU ARE had an incredible unit behind as well as in front of the camera.
This lovely to look at film has a certain disappointed and dreamlike quality that runs throughout its near two hour running time. Mastroianni really excels in the role as an unhappily married man who falls head over heels for the vivacious Kinski. It is one of his best, if most underrated, roles of the seventies and he plays it beautifully throughout. Perhaps the most interesting thing about Mastroianni's performance is how well he conveys the sense of losing control. He knows he is doing the wrong thing but he finds himself unable to stop himself, nobody was better than this great Italian leading man at showing this kind of internal strife. It is interesting to note that Mastroianni had just come off Ferreri's brilliantly crazed BYE BYE MONKEY where he would act at times as the voice of reason in the film to young Gerard Depardieu, while in STAY AS YOU ARE he is literally playing a man who has lost all reason and is seeking a voice for it.
As wonderful as Mastroianni is in the role, the film belongs to 17 year old Nastassja. Stunningly beautiful and authoritative, her work in STAY AS YOU ARE is still an eye opening experience. Even critics who didn't care for the film went out of their way to praise the young Kinski, who in the role of Francesca has to convey a sense of someone who is becoming more and more in control not only of their own life but also Mastroianni's Giulio. Kinski is at times soft and tender in her characterization but she never for a moment lets us forget that ultimately Giulio's destiny will finally be of her own choosing.
The pairing of Mastroianni and Kinski was inspired. The two have a real kinetic and joyous chemistry together and their love scenes, as well as just the way Marcello's kind but weary eyes stare lovingly at Nastassja, are still a wonder to behold. It must have been a thrill for Nastassja to work with one of her favorite actors at such a young age. She has often made mention throughout her career at how much she admired Fellini so the prospect of working with one of his greatest leading men must have been overwhelmingly exciting to her. STAY AS YOU ARE does break down a bit towards the end. It plays out a little too long and the film's final moments are a little too simple for the films good. I get the feeling that ultimately Lattauda didn't know how to end the film and finally just perhaps took the easiest way out.
STAY AS YOU ARE also has a great supporting cast to go along with its fabulous leads. The fine Spanish actor Francisco Rabal provides great support as does Spanish actress Monica Randall in what could have been a thankless role as Marcello's wife. Also keep a look out for future Argento and Fulci star Ania Pieroni making her feature debut in a small but solid role.
Morricone's score is remarkable and I will be looking at it in more detail in a future post. STAY AS YOU ARE would unfortunately be the next to last feature film for Lattuada who would mostly work in Italian television before his death two years ago. The talented, and prolific, Alcaine would begin his legendary collaboration with Almodovar ten years after the release of STAY AS YOU ARE and he remains one of the great cinematographers in modern cinema, with the amazing VOLVER among his most recent works.
STAY AS YOU ARE still has the capability to really jolt modern audiences with it's very R-rated subject matter, full frontal nudity and the possible incestuous relationship that is at its core. It isn't a film that could made in the present climate of modern cinema which is probably this reason that it remains out of print and unavailable on dvd in America. It's politically incorrect nature shouldn't turn modern viewers off, at its heart the film is more about watching two great actors playing off each other much more so than its improbable plot.
Nastassja Kinski's fourth film, featuring the most important of her pre-TESS roles, remains one of her hardest to find. Briefly available on VHS in the eighties before slipping out of print, STAY AS YOU ARE now fetches very high prices on Ebay and Amazon. It has been released on dvd in Europe but unfortunately that dvd does not feature English subtitles or the, admittedly awful, English dub track. With most of KiWith most of Kinski's most important work available on dvd in America, the absence of the lovely and controversial STAY AS YOU ARE is very disappointing. Kinski's most important work available on dvd in America, the absence of the lovely and controversial STAY AS YOU ARE is very disappointing.(5)
CITAS:
1.- http://www.mymovies.it/dizionario/recensione.asp?id=6499
2.- http://cer0.tripod.com/mastroian.htm
3.- http://terrorfantastico.com/foro/index.php?topic=13974.0
4.- http://ecine.info/filmes/15852/asi-como-eres/
5.- http://nostalgiakinky.blogspot.com/2007/07/5-cosi-come-sei-stay-as-you-are-1978.html